Semua yang perlu Anda ketahui jelang leg pertama perempat-final Liga Champions melawan Borussia Dortmund.
KAPAN DAN DIMANA
City menjamu Borussia Dortmund di Stadion Etihad di perempat-final Liga Champions pada Selasa 6 April, dengan kick-off pukul 20:00 (Inggris) atau Rabu 7 April pukul 02:00 WIB.
Penggemar di Indonesia bisa menonton pertandingan di Vidio, penggemar di seluruh negara lain bisa dapat memeriksa Daftar TV di bagian bawah halaman untuk mengetahui bagaimana mereka dapat menonton.
Jika Anda tidak dapat menonton pertandingan, kami akan memiliki pembaruan menit demi menit dari Pusat Pertandingan langsung kami, sementara pelanggan CITY+ dapat mendengarkan komentar audio dari Alistair Mann.
Anda juga dapat mengikuti pembaruan langsung di halaman Twitter kami: @ManCity, sementara tayangan ulang pertandingan lengkap juga akan tersedia untuk ditonton di CITY+ mulai tengah malam setelah pertandingan.
CITY+ | TONTON ULANGAN PENUH SETIAP PERTANDINGAN CITY
WE'RE NOT REALLY HERE
Presenter, Natalie Pike akan bergabung dengan mantan rekan satu tim City, Paul Dickov dan Andy Morrison untuk acara matchday We're Not Really Here kami.
Pertunjukan akan dimulai lebih dari satu jam sebelum kick-off pukul 00:55 (Inggris), dan Anda dapat mendengarkan pendapat ahli dan analisis dari pasangan City menjelang pertandingan.
Kami kemudian akan kembali ke studio saat jeda untuk setelah 45 menit pertama, sebelum kembali setelah peluit akhir di mana kami akan mendengarkan pemikiran pasca pertandingan dari para ahli City kami. 
We're Not Really Here tersedia untuk dilihat di semua platform digital kami, dan penggemar dapat terlibat dalam pertunjukan dengan menggunakan tagar #WNRH di twitter.
PRATINJAU PEP
"Tentu saja [itu sulit, secara emosional]," kata Pep. "Itu tetap ada di kepala saya selama berminggu-minggu. Itu menyakitkan, saya tidak bisa menyangkalnya.
"Itu adalah pertandingan terakhir musim. Kami ingin melewatinya. Kami mengucapkan selamat kepada Lyon. Kami tidak melakukannya dengan baik. Kami tidak pantas untuk lolos.
"Tentu saja menyakitkan, tapi apa yang bisa kami lakukan? Untuk waktu yang singkat, sepuluh hari, kami menderita. Kemudian, kami bangun dan bersiap untuk musim depan.
"Tapi kekalahan itu menyakitkan - terutama yang ini. Hari berikutnya, kami mengucapkan selamat tinggal dan semua orang pergi. Itu mengecewakan.
"Tapi kami di sini lagi untuk mencoba lagi."
PRATINJAU EDIN TERZIĆ
"We need to be at the top of our game in both legs; on it from the first second to the last, and maybe for extra time too. To overcome Manchester City would be something special. Guardiola is undoubtedly one of the best coaches in the world. For almost 15 years his teams have dominated football."
PANDUAN PENAMPILAN
City juga menikmati kampanye Liga Champions yang sukses sejauh ini, setelah menang tujuh kali dan seri satu kali dari delapan pertandingan kami di Eropa musim ini.
Kami menuju perempat-final setelah tidak kebobolan gol Liga Champions dalam 11 jam 35 menit pertandingan sepak bola - rekor terpanjang kedua dalam sejarah kompetisi.
Kami membukukan tempat kami di perempat final berkat kemenangan agregat 4-0 atas Borussia Monchengladbach di Babak 16 Besar.
Kemenangan kami di Leicester pada hari Sabtu berarti kami telah memenangkan 26 dari 27 pertandingan terakhir kami di semua kompetisi.
Penampilan: M M M M M K
Terbaru: Leicester City 0-2 Manchester City
Posisi kami: Pertama di Liga Primer
Tim Jerman juga menikmati kampanye Liga Champions yang sukses musim ini, setelah kalah hanya satu dari delapan pertandingan mereka di kompetisi musim ini.
Mereka maju ke perempat-final setelah mengalahkan klub Spanyol Sevilla, dengan agregat 5-4 di Babak 16 Besar.
Pada hari Sabtu, mereka dikalahkan di kandang oleh Eintracht Frankfurt di Bundesliga.
Penampilan: K S M S K M
Terbaru: Dortmund 1-2 Frankfurt.
Posisi mereka: Posisi kelima di Bundesliga
WASIT PERTANDINGAN
Wasit: Ovidiu Haţegan (ROU)
Asisten wasit: Octavian Șovre (ROU), Sebastian Gheorghe (ROU)
Video Assistant Referee: Marco Di Bello (ITA)
Asisten Video Asisten Wasit: Paolo Valeri (ITA)
Wasit keempat: István Kovács (ROU)
Delegasi UEFA: Kris Bellon (BEL)
Pengamat Wasit UEFA: Hugh Dallas (SCO)
PERTEMUAN TERAKHIR
Pertemuan terakhir kami dengan Dortmund terjadi dalam pertandingan penyisihan grup Liga Champion pada bulan Desember 2012, di mana tim Jerman itu keluar sebagai pemenang 1-0 di Signal Iduna Park berkat gol babak kedua dari Julian Schieber.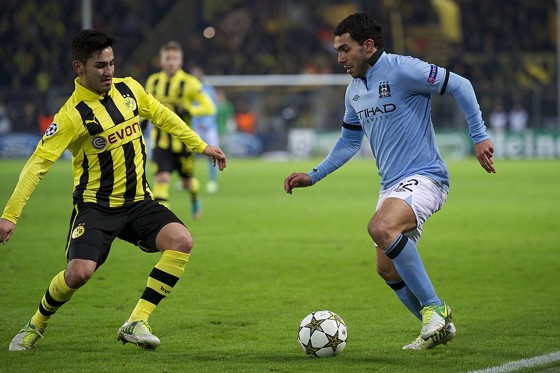 Dortmund mencapai final kompetisi musim itu, karena bintang City saat ini, Ilkay Gundogan, mencatatkan namanya di papan pencetak gol dalam kekalahan terakhir 2-1 dari Bayern Munich di Stadion Wembley.
DAFTAR TV
| | |
| --- | --- |
| Algeria | beIN SPORTS CONNECT |
| Angola | DStv Now, SuperSport Variety ROA, SuperSport MáXimo 2, Supersport Grandstand |
| Anguilla | Flowsports.co, Flow Sports App |
| Antigua and Barbuda | Flow Sports App, Flowsports.co |
| Argentina | ESPN Sur |
| Aruba | Flowsports.co, Flow Sports App |
| Australia | Optus Sport |
| Austria | DAZN, Sky Sport 1/HD, Sky Go |
| Bahamas | Flow Sports App, Flowsports.co |
| Bahrain | beIN SPORTS CONNECT |
| Barbados | Flowsports.co, Flow Sports App |
| Belgium | Proximus Sports |
| Belize | Fox Sports Cono Norte, Fox Sports 2 Cono Norte |
| Benin | SuperSport MáXimo 2, Supersport Grandstand, SuperSport Variety ROA |
| Bermuda | Flowsports.co, Flow Sports App |
| Bolivia | ESPN Sur |
| Bosnia and Herzegovina | Klik SPORT |
| Botswana | SuperSport MáXimo 2, SuperSport Variety ROA, Supersport Grandstand, DStv Now |
| Brazil | GUIGO, TNT Go, Estádio TNT Sports, TNT Brasil |
| British Virgin Islands | Flowsports.co, Flow Sports App |
| Brunei | beIN Sports Connect |
| Burkina Faso | SuperSport Variety ROA, Supersport Grandstand, SuperSport MáXimo 2, DStv Now |
| Burundi | SuperSport Variety ROA, SuperSport MáXimo 2, Supersport Grandstand, DStv Now |
| Cambodia | beIN Sports Connect, Goal.com |
| Cameroon | SuperSport Variety ROA, SuperSport MáXimo 2, DStv Now, Supersport Grandstand |
| Canada | DAZN |
| Cape Verde | Supersport Grandstand, SuperSport MáXimo 2, DStv Now, SuperSport Variety ROA |
| Cayman Islands | Flow Sports App, Flowsports.co |
| Central African Republic | SuperSport Variety ROA, Supersport Grandstand, SuperSport MáXimo 2 |
| Chad | SuperSport Variety ROA, SuperSport MáXimo 2, beIN SPORTS CONNECT, DStv Now, Supersport Grandstand |
| Chile | ESPN Sur |
| China | QQ Sports Live, PPTV Sport China |
| Colombia | ESPN Sur |
| Comoros | SuperSport MáXimo 2, Supersport Grandstand, SuperSport Variety ROA |
| Congo | SuperSport Variety ROA, SuperSport MáXimo 2, DStv Now, Supersport Grandstand |
| Costa Rica | Fox Sports 2 Cono Norte, Fox Sports Cono Norte |
| Cote D'Ivoire | SuperSport MáXimo 2, SuperSport Variety ROA, Supersport Grandstand, DStv Now |
| Croatia | Klik SPORT |
| Cyprus | Cytavision on the Go |
| Czech Republic | O2 TV |
| Denmark | Viaplay Denmark |
| Djibouti | beIN SPORTS CONNECT, DStv Now |
| Dominica | Flow Sports App, Flowsports.co |
| Dominican Republic | Fox Sports Cono Norte, Fox Sports 2 Cono Norte |
| Ecuador | ESPN Sur, ESPN Andina |
| Egypt | beIN SPORTS CONNECT |
| El Salvador | Fox Sports 2 Cono Norte, Fox Sports Cono Norte |
| Equatorial Guinea | SuperSport Variety ROA, SuperSport MáXimo 2, DStv Now, Supersport Grandstand |
| Eritrea | SuperSport MáXimo 2, SuperSport Variety ROA, DStv Now, Supersport Grandstand |
| Ethiopia | DStv Now, SuperSport Variety ROA, Supersport Grandstand, SuperSport MáXimo 2 |
| Finland | C More Suomi |
| France | RMC Sport en direct, RMC Sport 2 |
| Gabon | Supersport Grandstand, SuperSport Variety ROA, DStv Now, SuperSport MáXimo 2 |
| Gambia | SuperSport Variety ROA, SuperSport MáXimo 2, DStv Now, Supersport Grandstand |
| Germany | Sky Ticket, Sky Sport 1/HD, DAZN, Blue Sport, Sky Go |
| Ghana | DStv Now, SuperSport Variety ROA, SuperSport MáXimo 2, Supersport Grandstand |
| Grenada | Flowsports.co, Flow Sports App |
| Guatemala | Fox Sports Cono Norte, Fox Sports 2 Cono Norte |
| Guinea | Supersport Grandstand, SuperSport MáXimo 2, DStv Now, SuperSport Variety ROA |
| Guinea-Bissau | SuperSport Variety ROA, SuperSport MáXimo 2, Supersport Grandstand, DStv Now |
| Honduras | Fox Sports 2 Cono Norte, Fox Sports Cono Norte |
| Iceland | Stöð 2 Sport 3 |
| Indonesia | Vidio |
| Iran | beIN SPORTS CONNECT |
| Iraq | beIN SPORTS CONNECT |
| Ireland | BT Sport 3, BT Sport Extra, BBC Radio 5 Live, BT Sport App, Virgin TV Go, BTSport.com |
| Italy | SKY Go Italia |
| Jamaica | Flow Sports App, Flowsports.co |
| Jordan | beIN SPORTS CONNECT |
| Kenya | DStv Now, Supersport Grandstand, SuperSport MáXimo 2, SuperSport Variety ROA |
| Kuwait | beIN SPORTS CONNECT |
| Laos | beIN Sports Connect, Goal.com |
| Lebanon | beIN SPORTS CONNECT |
| Lesotho | DStv Now |
| Liberia | Supersport Grandstand, SuperSport Variety ROA, DStv Now, SuperSport MáXimo 2 |
| Libya | beIN SPORTS CONNECT |
| Luxembourg | RMC Sport 2 |
| Macedonia | Klik SPORT |
| Madagascar | DStv Now, SuperSport Variety ROA, Supersport Grandstand, SuperSport MáXimo 2 |
| Malawi | Supersport Grandstand, SuperSport Variety ROA, SuperSport MáXimo 2, DStv Now |
| Mali | SuperSport Variety ROA, SuperSport MáXimo 2, DStv Now, Supersport Grandstand |
| Mauritania | beIN SPORTS CONNECT, DStv Now |
| Mauritius | Supersport Grandstand, SuperSport MáXimo 2, DStv Now, SuperSport Variety ROA, RMC Sport 2 |
| Mexico | Fox Sports Cono Norte, Fox Sports 2 Cono Norte |
| Monaco | RMC Sport 2 |
| Montenegro | Klik SPORT |
| Montserrat | Flowsports.co, Flow Sports App |
| Morocco | beIN SPORTS CONNECT |
| Mozambique | SuperSport MáXimo 2, SuperSport Variety ROA, DStv Now, Supersport Grandstand |
| Myanmar | Skynet Myanmar |
| Namibia | SuperSport MáXimo 2, DStv Now, Supersport Grandstand, SuperSport Variety ROA |
| Nicaragua | Fox Sports 2 Cono Norte, Fox Sports Cono Norte |
| Niger | SuperSport MáXimo 2, DStv Now, SuperSport Variety ROA, Supersport Grandstand |
| Oman | beIN SPORTS CONNECT |
| Palestinian Territory | beIN SPORTS CONNECT |
| Panama | Flowsports.co, Fox Sports Cono Norte, Flow Sports App, Fox Sports 2 Cono Norte |
| Paraguay | ESPN Sur |
| Peru | ESPN Sur |
| Philippines | beIN Sports Connect Philippines, Goal.com |
| Poland | IPLA |
| Qatar | beIN SPORTS CONNECT |
| Romania | telekomsport.ro |
| Russia | matchtv.ru, Sportbox.ru |
| Rwanda | SuperSport MáXimo 2, Supersport Grandstand, SuperSport Variety ROA |
| Saint Kitts and Nevis | Flow Sports App, Flowsports.co |
| Saint Lucia | Flow Sports App, Flowsports.co |
| Saint Vincent and the Grenadines | Flowsports.co, Flow Sports App |
| Sao Tome And Principe | Supersport Grandstand, SuperSport Variety ROA, SuperSport MáXimo 2 |
| Senegal | Supersport Grandstand, SuperSport Variety ROA, DStv Now, SuperSport MáXimo 2 |
| Serbia | Klik SPORT |
| Seychelles | Flowsports.co, Supersport Grandstand, SuperSport Variety ROA, DStv Now, Flow Sports App |
| Sierra Leone | Supersport Grandstand, DStv Now, SuperSport Variety ROA |
| Somalia | beIN SPORTS CONNECT |
| South Africa | DStv App, Supersport Grandstand, SuperSport MáXimo 2, SuperSport Variety |
| South Sudan | SuperSport Variety ROA, Supersport Grandstand, SuperSport MáXimo 2, DStv Now, beIN SPORTS CONNECT |
| Spain | Mitele Plus, Movistar+ |
| Sudan | beIN SPORTS CONNECT, DStv Now |
| Swaziland | SuperSport MáXimo 2, Supersport Grandstand, DStv Now, SuperSport Variety ROA |
| Sweden | Viaplay Sweden |
| Switzerland | Sky Sport 1/HD, Blue Sport |
| Syria | beIN SPORTS CONNECT |
| Tanzania | SuperSport Variety ROA, SuperSport MáXimo 2, DStv Now, Supersport Grandstand |
| Thailand | beIN Sports Connect, Goal.com |
| Togo | SuperSport MáXimo 2, Supersport Grandstand, SuperSport Variety ROA, DStv Now |
| Trinidad and Tobago | Flow Sports App, Flowsports.co |
| Tunisia | beIN SPORTS CONNECT |
| Turkey | beIN CONNECT Turkey, Digiturk Play |
| Turks and Caicos Islands | Flowsports.co, Flow Sports App |
| Uganda | DStv Now, Supersport Grandstand, SuperSport Variety ROA, SuperSport MáXimo 2 |
| Ukraine | OLL.tv |
| United Arab Emirates | beIN SPORTS CONNECT |
| United Kingdom | BT Sport Ultimate, BT Sport Extra, BTSport.com, BT Sport 3, BBC Radio 5 Live, BT Sport App |
| United States | ZonaFutbol, Paramount+, TUDN.com, TUDN App, TUDNxtra |
| Uruguay | ESPN Sur |
| Venezuela | Fox Sports Cono Norte, Fox Sports 2 Cono Norte, ESPN Andina, ESPN Sur |
| Yemen | beIN SPORTS CONNECT |
| Zambia | SuperSport Variety ROA, Supersport Grandstand, SuperSport MáXimo 2 |
| Zimbabwe | SuperSport Variety ROA, SuperSport MáXimo 2, Supersport Grandstand, DStv Now |
News about Man City v Borussia Dortmund